good clean fun...

opening night for the new york underground film festival... but as far as i could tell there was nothing "film" about it.... plenty of good music though... (actually, i missed all but the headlining band, maybe it's that i have bad time management skills... i think i'm just too busy). i've been a fan for awhile, but this was the first time i saw "rocket from the crypt" live and they were great (i think i saw some of the band hanging out at cbgbs the next night for the "girls against boys" show). the show was at irving plaza which is a bigger venue than i usually care for, but at least it used to be home to an off-broadway musical so it's got history and fancy chandeliers...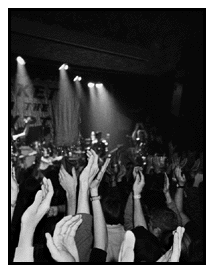 the band can be kinda cheesy...



| current snaps | past weeks | what? why? | feedback |

all images are copyright emilie wilson and
should not be reproduced
without permission.