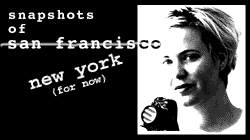 wanna bet?...

for those of you who have been following this site for awhile, you know that i like to play poker... not really serious poker, but "just for fun" type poker. i recently had the pleasure of meeting a group of (mostly) women who get together once a week to play cards the way i like it: nickel and dime bets. they are a great group and i thought i'd post a few photos from the past couple of games... i call them the park slope girls (and boys)... i'm hoping to join them on a bus trip to atlantic city sometime! geez... i hope i'm this cool when i grow up...

i hope you enjoy the snaps this week... feel free to browse through the past 105 weeks as well... i need to shift gears for this site and post new photos once a month instead of every week... the new snaps will come out the last friday of every month... i've taken on more than i can handle right now, so it'll have to be this way for the next six months or so... thanks to all you faithful viewers, and welcome to the new ones... cheers. emilie

| current snaps | past weeks | what? why? | feedback |

all images are copyright emilie wilson and
should not be reproduced
without permission.