there can't be too many diners...

so this month you get a look at the silver crest: a 24 hours diner/bar (with pool tables) just off 101 between army and cortland. it's been around for over 30 years, but this was my first visit. i've often wanted to stop in, but it was usually late at night and it felt a little creepy to me then... but now that i've been there, i know i'll be back. this time it was for a grilled cheese, donut and coffee midday... there were a couple of guys playing pool in the back and a couple others working the triple play machines in the diner... otherwise pretty sleepy...


the donut was kinda yucky...
but the grilled cheese was tasty...



nothin' like a little patti labelle sittin' at the counter...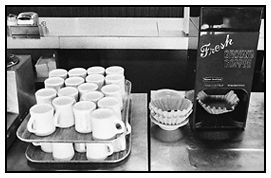 ah... the continuous refill of coffee...

        


all images are copyright emilie wilson and
should not be reproduced
without permission.