horses... betting...
a race track in san francisco?
nope. but you can see san francisco across the bay... from golden gate fields in albany (near berkeley). so i'm breaking the rule this week about only shooting in san francisco. but i have an excuse. i'm going on vacation (a long weekend) so i wasn't going to put out any new photos this week... but instead it's an east bay special coming out on wednesday... (so the next new installation will be friday, may 31... but be sure to check out the brainwash shots since they got a short week...)

golden gate fields isn't as well known as bay meadows (the other local track, south of the city), but it's been around since the 1930s... their season varies year-to-year, (this year it's march 27 through june 16), and they have races wednesday through sunday...

and yes, i bet, and yes, i lost every time...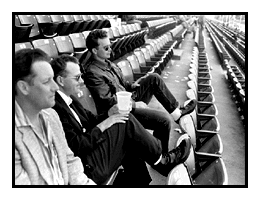 these are my co-conspirators...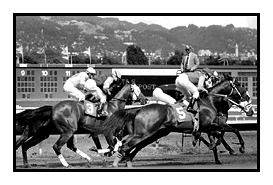 just so ya believe me that we were actually at the track...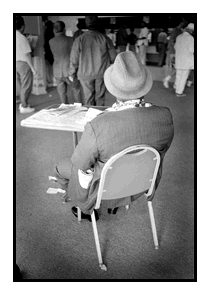 inside you can watch the races on a t.v. screen...
(and can bet on other races through "simulcasting")...

| current snaps | past weeks | what? why? | feedback |

all images are copyright emilie wilson and
should not be reproduced
without permission.