breakin' the rules...
again!!

as we go on location outside of san francisco. this time we take a trip to an old mill town named burney in shasta county, northern california. burney has a population of about 3,000, but serves as the market town for closer to 9,000 (it's the last town until utah if you head straight east). as a lumber town burney had it's heyday in the 30s, 40s and early 50s; there are still a couple of operating mills, but it's mostly a market / shopping / tourist town now. home to a fine bowling alley, plenty of good american country food, and the annual (since the 40s) "burney basin day's" parade (which we had the luck of catching...) in the early 50s they guaranteed that neighbor bing crosby would attend the parade by naming him grand marshall (he had a ranch nearby...)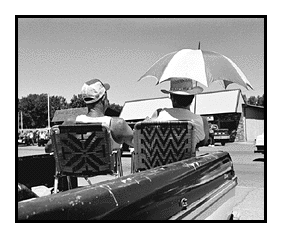 prime viewing spot for the parade
(it was about 105 degrees out...)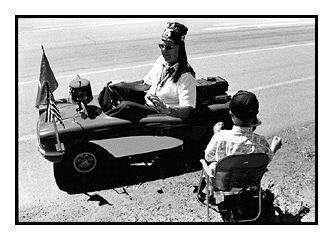 and what's a parade without the shriners...

| current snaps | past weeks | what? why? | feedback |

all images are copyright emilie wilson and
should not be reproduced
without permission.