north beach!
martinis!
opera?
Tosca!
the tosca cafe was established back in 1919 in the neighborhood of san francisco now called "north beach". near the corner of broadway and columbus, it is a classy place for a cocktail (or two). their jukebox plays opera hits (yes, opera) which often battle the loud thumping coming up through the floor from the late night dance club "the palladium" housed below...a friend of mine also said (if you care) that tosca's is one of Bono's (U2) favorite bars, so much so that he opened a bar called "Tosca" in Dublin, Ireland, which his brother runs.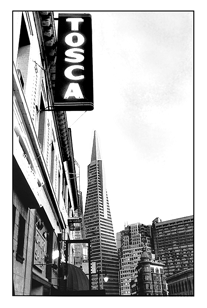 wednesday night, after work, before sunset.
a view of Tosca with the trademark Transamerica building in the background.
Tosca is a quick escape from the financial district
(for those of us who like to escape)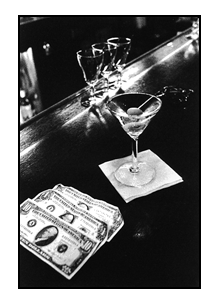 my friend bob's gin martini...
what else is there to say?

(those three glasses you see in the background
are waiting to serve the house special "cappuccino"
a delicious combination of brandy, cream and Ghiradelli chocolate...)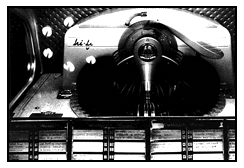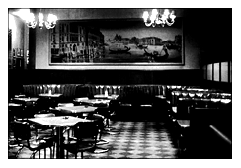 here's the jukebox sporting the opera hits and an overall look at the place
(just after opening... believe me, it fills up...)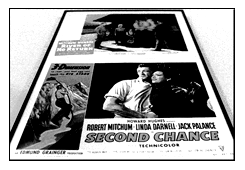 and for those of you who are interested,
the women's rest room is decorated with Robert Mitchum photos and posters.
(i've been told that the men's room honors Marilyn Monroe)

| current snaps | past weeks | what? why? | feedback |

all images are copyright emilie wilson and
should not be reproduced
without permission.