this week...
more coffee...!

this week it's a hop off the bus to stop for a satisfying, affordable breakfast with an endless cup of coffee. kate's kitchen (on lower haight near fillmore) was opened in 1993 by two sisters who wanted to simulate the feeling of eating home-cooked food on the back patio (the explanation i was given for the tablecloths) and it serves southwestern fare for breakfast and lunch. the restaurant was sold about a year ago, but it still seems to have the same creative menu. i had the rooster booster special (BIG cheese and egg sandwich, yummy potatoes, and coffee) for $3.50. (personally, i will always miss it's earlier incarnation as "delta's" where we would gather on the weekends to eat their delicious deep-fried dough... but, hey, things change...)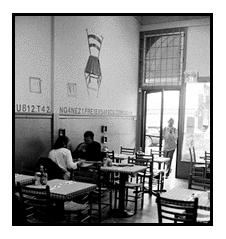 i guess it's kinda like sitting on the patio...



condiments. wait staff zooming by...
breakfast in our little city...

| current snaps | past weeks | what? why? | feedback |

all images are copyright emilie wilson and
should not be reproduced
without permission.