b-b-q ...
hotrods...
rockabilly music...
and tattoos!...

this week i'm sharing a glimpse of an annual san francisco event, greaseball '96. it's an all day affair starting at 1:00 in the afternoon. rods and customs / booze / tattoos / barbecue and tons of music. this year there were 13 bands. outside you could check out the hotrods and eat a little b-b-q, inside non-stop music and ever flowing booze, upstairs merchandise booths, a place to get the latest hairdo, and even a tattoo station. the scene upstairs seemed a little weird to me (getting a haircut at a bar?) but whatever, to each his or her own... if you like it, cool.


havin' a tattoo, a drink, and a chat...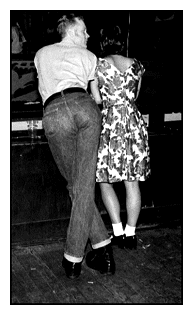 people everywhere trying to make the scene...
as a result, almost everyone looked the same...
(except for a couple of cute punk girls...)

| current snaps | past weeks | what? why? | feedback |

all images are copyright emilie wilson and
should not be reproduced
without permission.