a refreshing commute...

i've heard so many nostalgic stories about the staten island ferry i couldn't help but shoot it for snapshots... pardon me if it seems a little touristy, but seriously, it's a commuter ferry (not my commute, but so?)... i didn't even include a shot of the statue of liberty!... the ferry was built in the mid-late 1800s... in 1905 the fare was 5 cents... now it's free! (a recent gift from the nyc mayor to the people of staten island... a political favor the way i heard it...) so it's true that i'm lovin' new york, but let's not forget about san francisco...)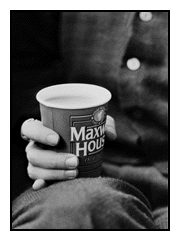 bad coffee, but who could resist
on a chilly, beautiful ferry ride?


| current snaps | past weeks | what? why? | feedback |

all images are copyright emilie wilson and
should not be reproduced
without permission.